I always dread the end of the year. Saying goodbye to Baton Rouge, my friends, and all LSU's little quirks (I'm talking to you traffic, Tigerland, hella good food) just makes me sad. V descriptive of me, I know lol. I thought I could take a hot minute to do a little soul searching/reflection on my sophomore year of college (peep my freshmen year post for reference).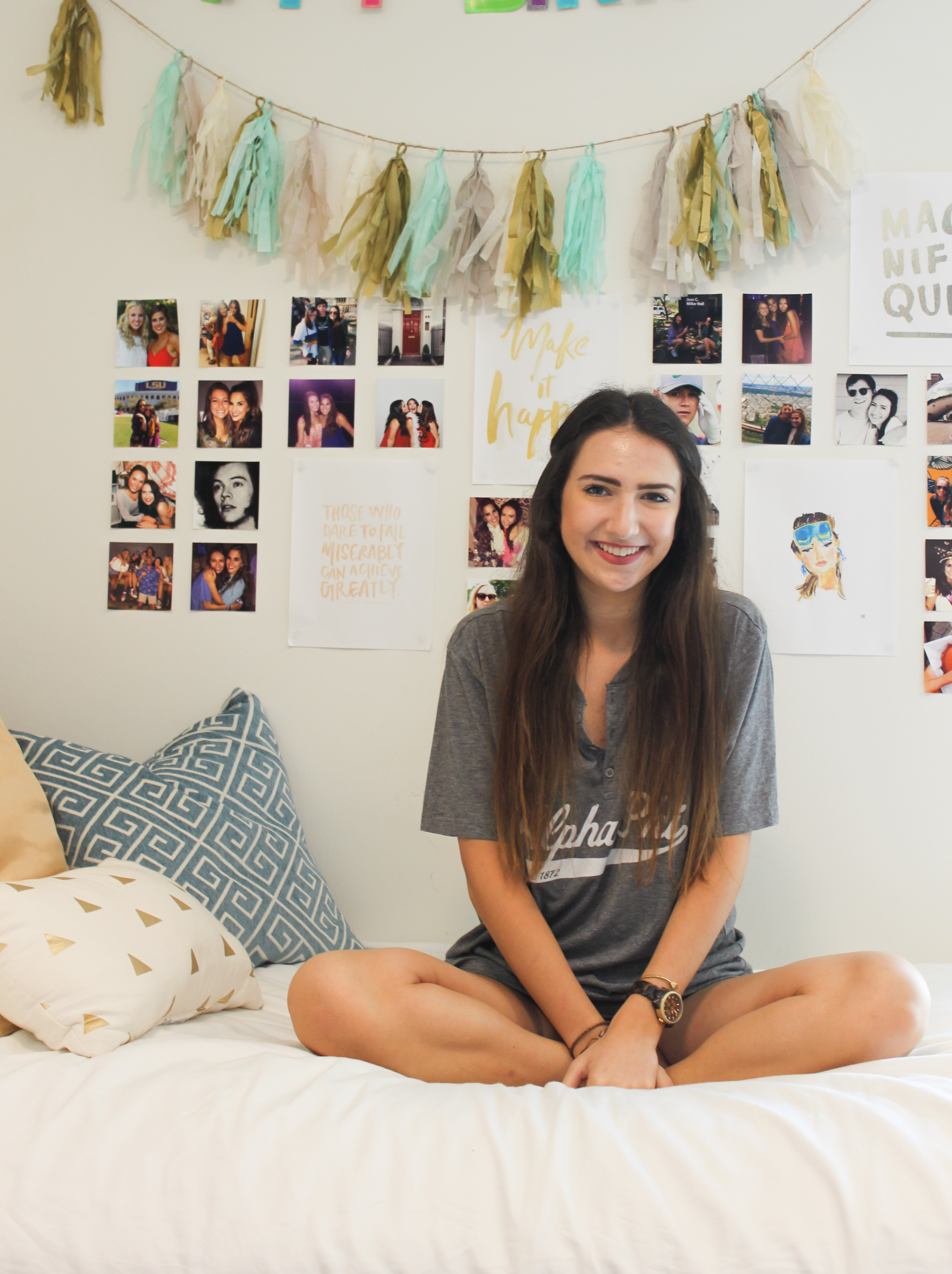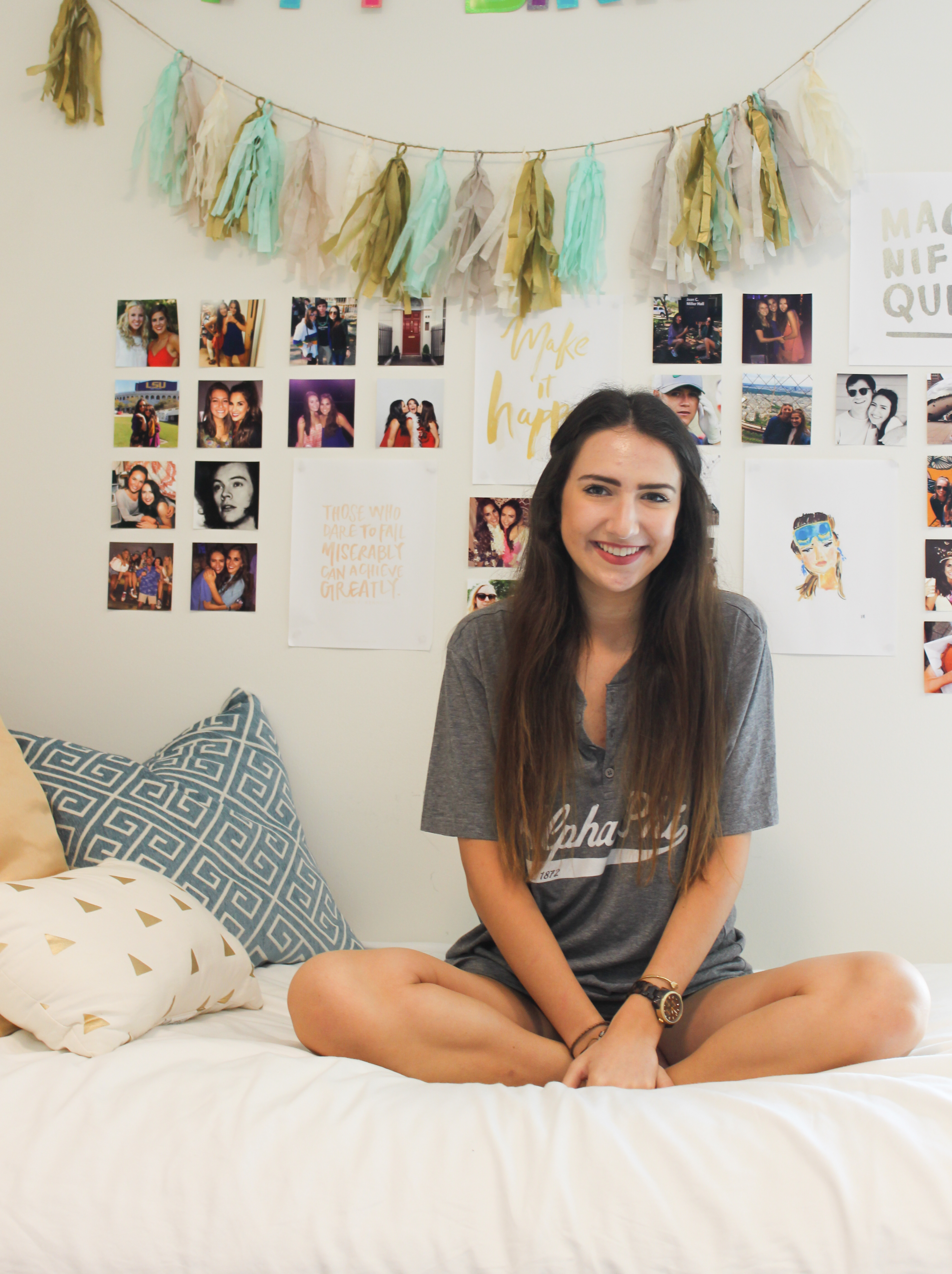 Same pose, different year.
I had the privilege of living in my sorority's chapter house overlooking the LSU lakes, and let me just say I think it's become one of my favorite places in the world. Having 52 other roommates had its ups and downs, but man did we have the best freakin time. There was always someone awake to study with, watch chick flicks (10 things I hate about you became our favorite movie of all time), or go grab some late night snacks too (lol that happened way too much). How lucky am I to have been able to share so many memories with such a fabulous group of gals and even more lucky to be able to call our chapter house home for another year! If you ever have the opportunity to live in the house, do it. There's plenty of time (the rest of your life) to live in houses and apartments, but to live with 52 other girls — there's only one time and place for that!
School beat me up a little bit, but as I said last year I have gotten so much affirmation that I am in the field I love. Getting a job at Hemline and starting to gain valuable experience was one of the best things I have done thus far. I also think I finally figured out how to study for tests lol. In high school I didn't have the best study skills, but once I got to LSU I knew I needed to gain some. After taking some challenging classes this year (@Econ @Costume history) and coming out with good grades, it feels like I finally got it down.
Much like freshman year, I learned life is about balance. Having to juggle school, a job, and Alpha Phi made my life nonstop chaos, but that's the way I like it. Having limited free time for homework and studying actually makes me get focused much faster. I mean, I was constantly running from one thing to the next, but I would rather be busy making choices that will aid me in the future than hanging around watching Netflix all day every day. The key to balance: my planner, alarm clock, too much coffee, and a mimosa every so often (hah!).
As another school year has come and gone and I am still single I just can't help but laugh. The words "where is my man?" have come out of my mouth too many times to count this year! Boys will come and go, but the girlies are forever (I'll be living by that for the rest of my days). Maybe next year I'll actually find a man but until then catch me on the couch watching corny rom-coms with the gals.
Some miscellaneous musings…
I also learned I like t-shirts and jeans a little too much.
I'm really really bad at checking/replying to texts.
Having a 17 year old car is awesome because it teaches you way too many life lessons (how to jump start a car, put coolant in it, fill it up with gas too often, go without heat etc).
LSU parking is my least favorite thing on this planet.
It's never too late to make new friends.
I needed to step out of my comfort zone (and I honestly still do). This was probably one of the hardest things to learn this year. There's only so much fun in playing it safe!
Shout out to y'all for sticking with me (as weird as I am) for another school year. I do not want to accept the fact that I'm growing up so quickly!!
GEAUX TIGERS!