Graduation season is among us! I literally remember graduating from high school like it was yesterday! It's crazy how time flies! Graduation season brings a lot of crawfish boils (if you live in LA like me), and lots of gift giving. While money is always appreciated, sometimes it's nice to give a physical item to show how much you care. So I've scoured the internet to bring to you 10 grad gifts under $40!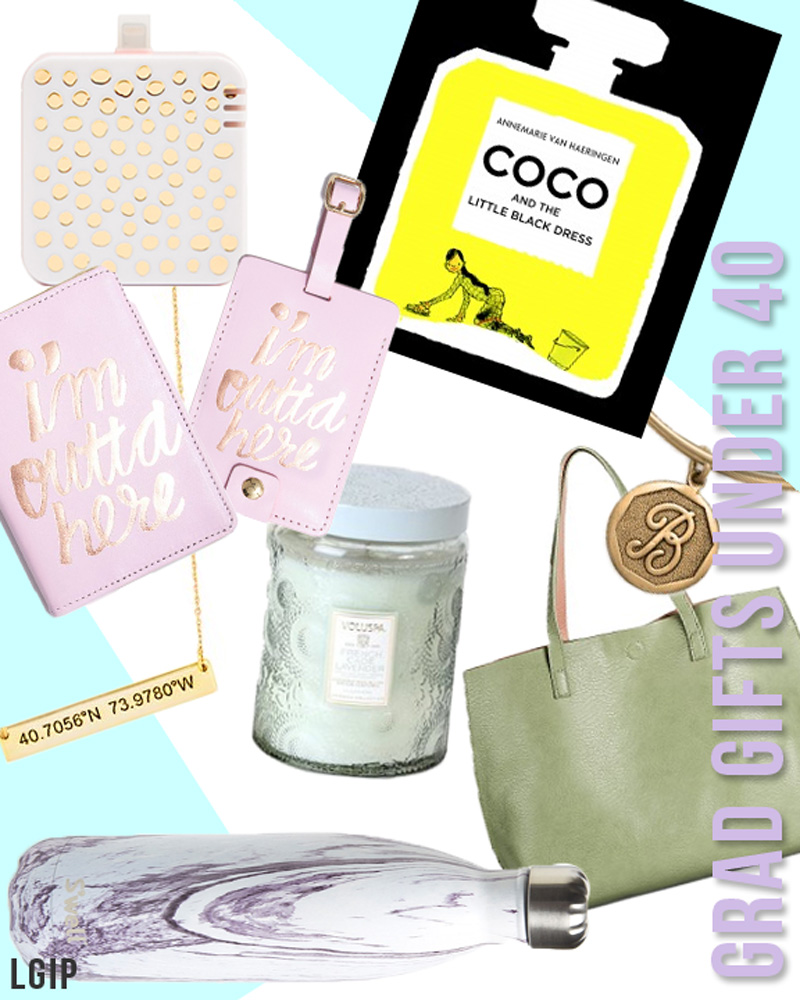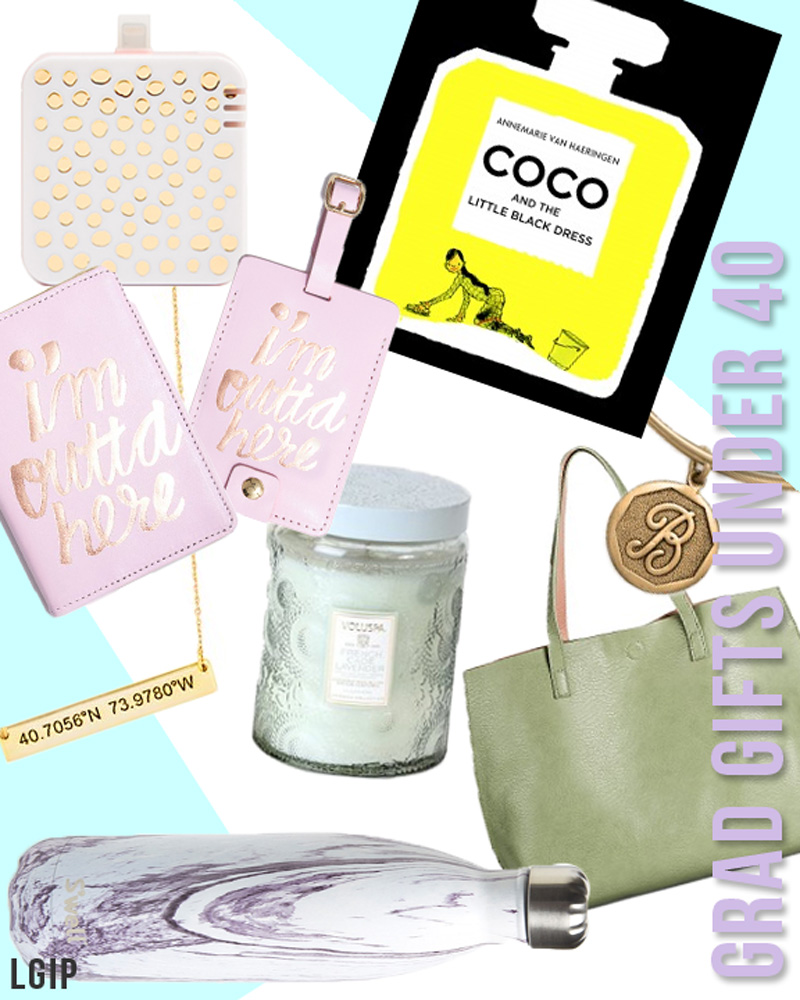 // ban.do portable charger //
My portable charger saved my life this year. Seriously. I took it with me for long game days, nights out, or as a "just in case." I loved the charger that plugged straight into my phone so I didn't have to carry around cords! This one from ban.do is adorable, yet so functional!
// coco and the little black dress //
Forever wishing I had a coloring book freshman year to relieve stress. Coco Chanel + coloring — it can't get any better than that. Take this bad boy to the library for a study break, or just keep in your room to unwind at night.
// ban.do passport cover + luggage tag //
This little duo is perfect for a traveler! You'll never misplace your luggage with this luggage tag, and this passport cover is just the cutest.
// voluspa candle //
Voluspa has THE BEST candles hands down. The packaging is so aesthetically pleasing and there's such a wide variety of scents offered. Burning a candle in my room is one of my favorite things to do at night before bed — aka making this the perfect gift for a grad!
// bauble bar coordinates necklace //
This year I purchased a bar necklace and it's become one of my favorite accessories. This bar necklace is customizable with coordinates! I'm thinking coordinates of home or maybe school would make it really special.
// alex + ani bangle //
Another one of my basic pieces that I can pair with anything and everything! Alex + Ani bangles are a sweet, yet simple gift that will be put to good use in any girl's stack.
// s'well bottle //
Y'all know my thoughts on S'well bottles — love, love, love! I toted mine around all of second semester and I loved how stylish it was, while keeping my water cold. This is a great gift for an entering college student to use on campus, or graduating college student to use at the office.
// target reversible tote //
A big tote is a must for me at anytime of year! I love this one from Target because of the price and the fact that it's reversible. This would be a fantastic over night bag, carry on, or even just everyday purse (if you have lots of stuff to tote around like me).
Is there anything on this list you would add?