The weather lately has been the biggest drag. It's been rainy and chilly, which is a combination I'm not a fan of. It makes me wanna curl up with a good movie and never ever leave. Anyone feel me on this? I swear I could do that every day for the rest of my life and not get tired of it! A girls gotta Netflix and binge you know!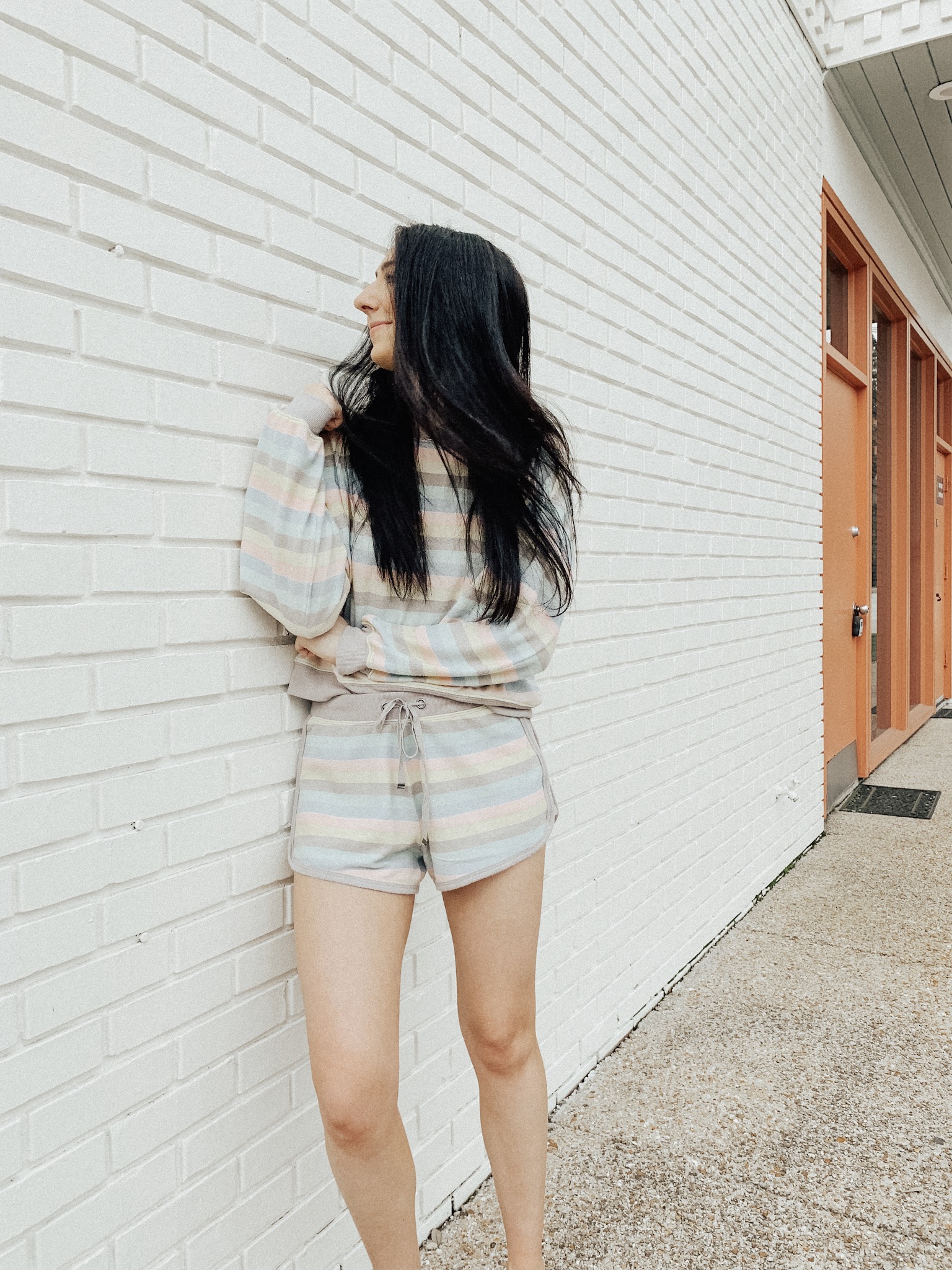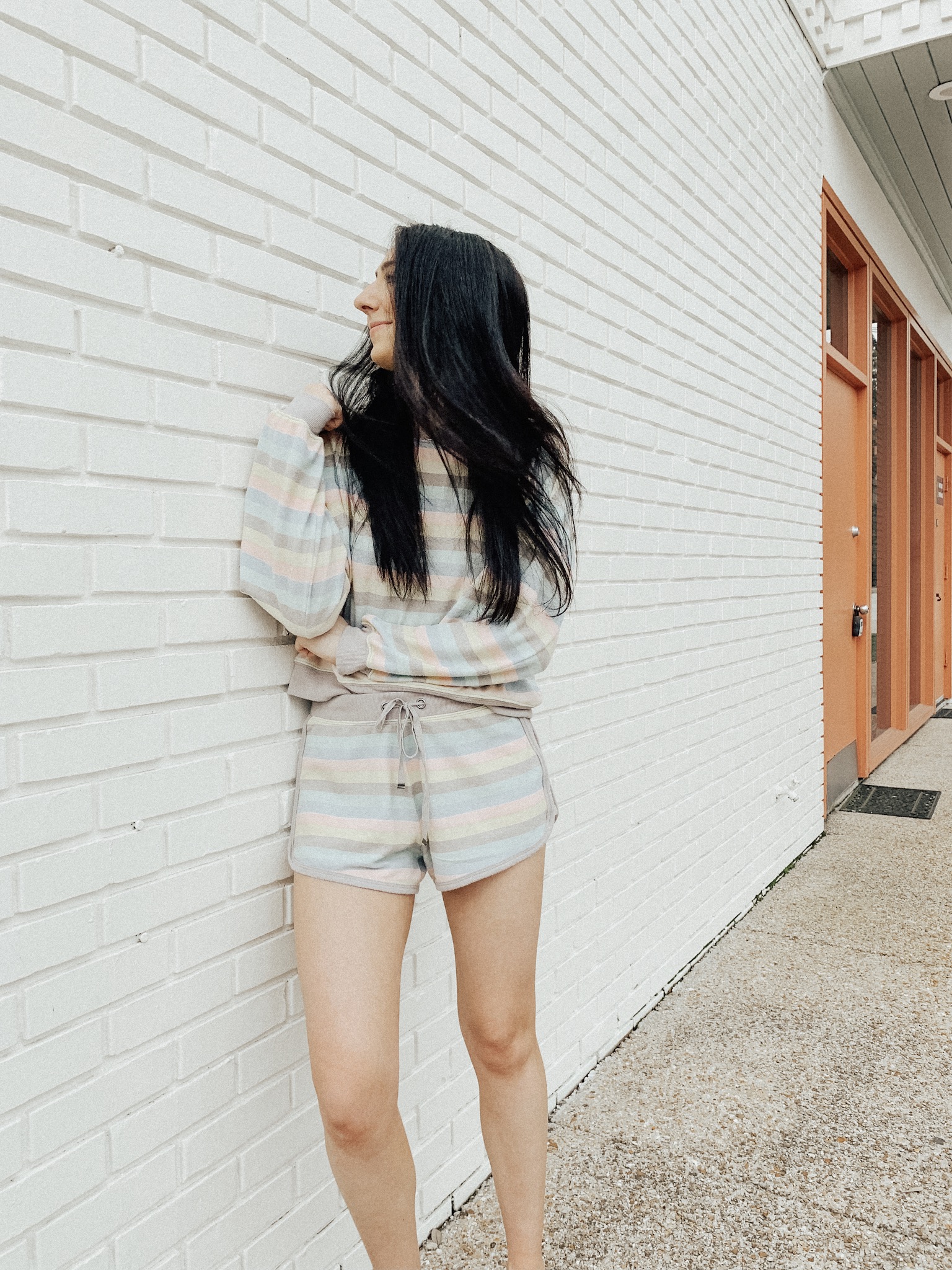 Speaking of curling up in bed with a good movie, there's nothing that's more comfy to do it in than a matching set. If you've been following me for a while, I'm sure you know that I am a SUCKER for a matching set. There's just something so extra about it, but I love it too much. I picked up this set a few weeks ago and it has not left my body for very long. I am looooving the muted stripes and the colors are just so fun and springy! Plus you can definitely wear it out! Grocery shopping? Errands? Coffee? Casual lunch? You need for all of the above. Comfy, cute, and matching – nothin better.
I'll go ahead and put a few of my other favorite matching sets below for y'all! Hop on the bandwagon with me :-)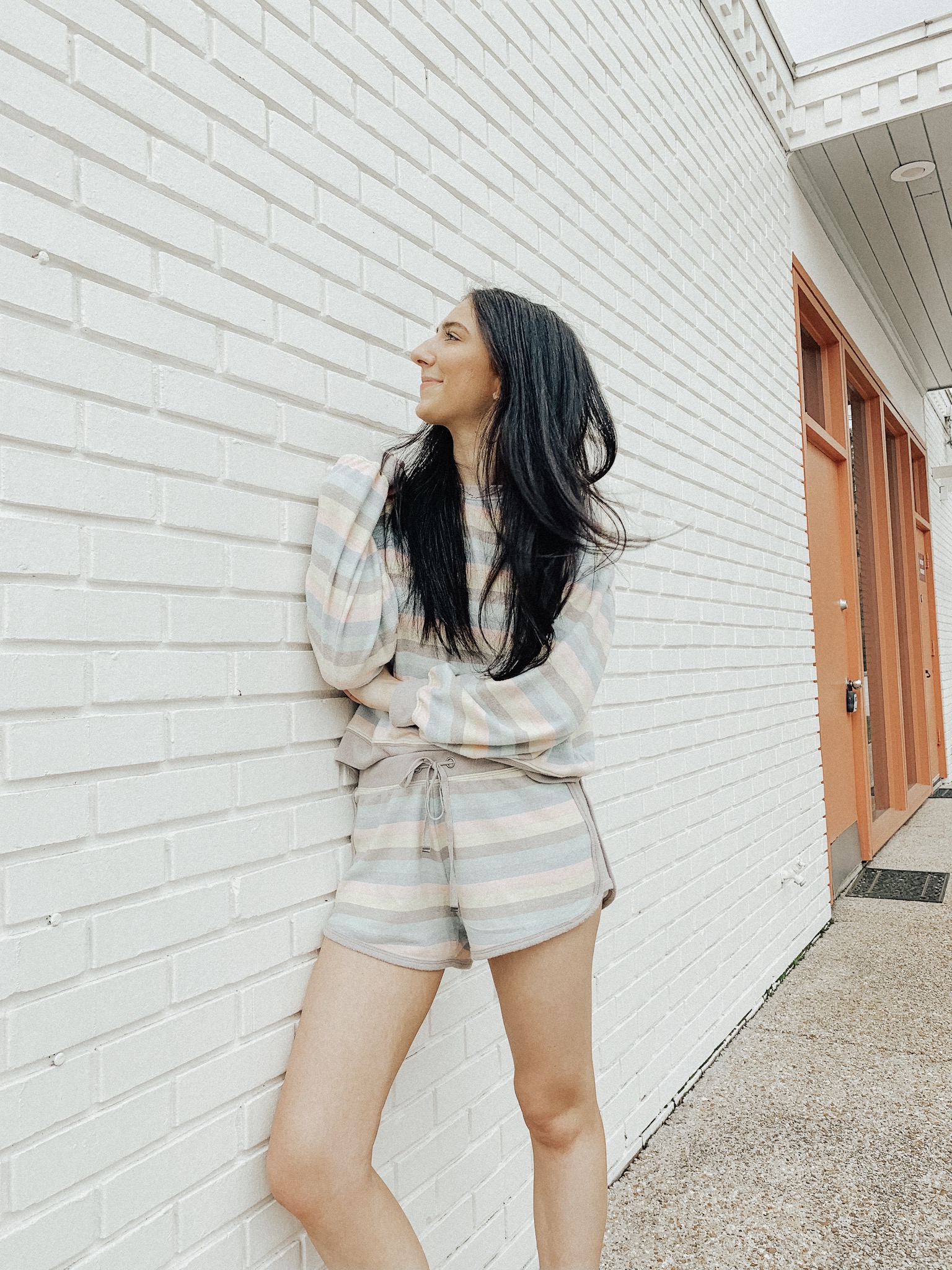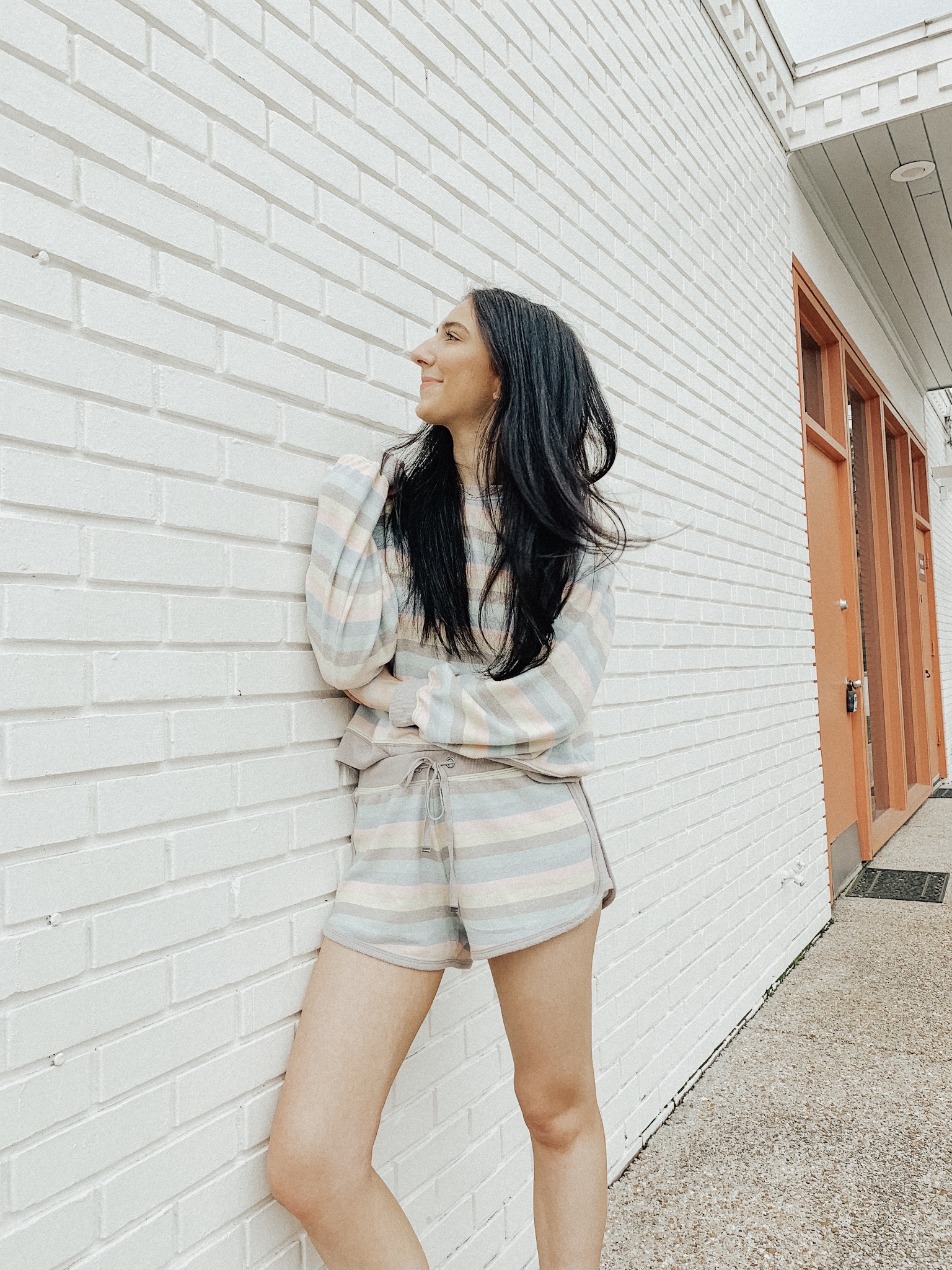 If you know me, you know I watch ALOT of TV. Really, I do! I would consider myself a connoisseur of romantic comedies. I've pretty much seen almost of all them on Netflix, Hulu, and Amazon… is that something to celebrate? Idk honestly but I'll take it! I guess it comes in handy sometimes… and now is one of those cases. I put together a huuuuge list of all my favorite rom-coms from the 80s to now. If you ever need a movie, or 11, to watch- just come here. Screenshot this list and check em all off! You'll be much more prone to think your life is a movie (I know I do- it's a character flaw).
THE BEST ROM-COMS EVER
A Cinderella Story // He's Just Not That Into You // 10 Things I Hate About You // She's All That // Drive Me Crazy
You've Got Mail // 13 Going on 30 // Two Weeks Notice // Stuck in Love // Yours Mine and Ours // Pretty Woman
 Pretty in Pink // Can't Buy Me Love // Legally Blonde // My Big Fat Greek Wedding // She's The Man // 27 Dresses
Easy A // Bride Wars // Bridesmaids // Crazy, Stupid, Love // Princess Diaries (1 & 2) // White Christmas // Hairspray
Baby Mama // Mamma Mia // To All the Boys I've Loved Before // Almost Famous // Parent Trap // Lizzie McGuire Movie
Sisterhood of the Travelling Pants // Aquamarine // High School Muscial (ALL 3 OBVI) // Pitch Perfect (1 only)
Friends with Benefits // No Strings Attached // Lady Bird // Breakfast at Tiffany's // Bring It On // La La Land // Grease
The Devil Wears Prada // While You Were Sleeping // Never Been Kissed // Love Actually // Clueless // Trainwreck
When Harry Met Sally // The Proposal
PLEASE WATCH SOME MOVIES THIS WEEKEND IN MY NAME! DM me any you think I should add to the list :)